Current Issue
Vol 15 No 1-2 (2018): Vol. 15, No. 1-2 (Summer 2018) - Issue No. 28-29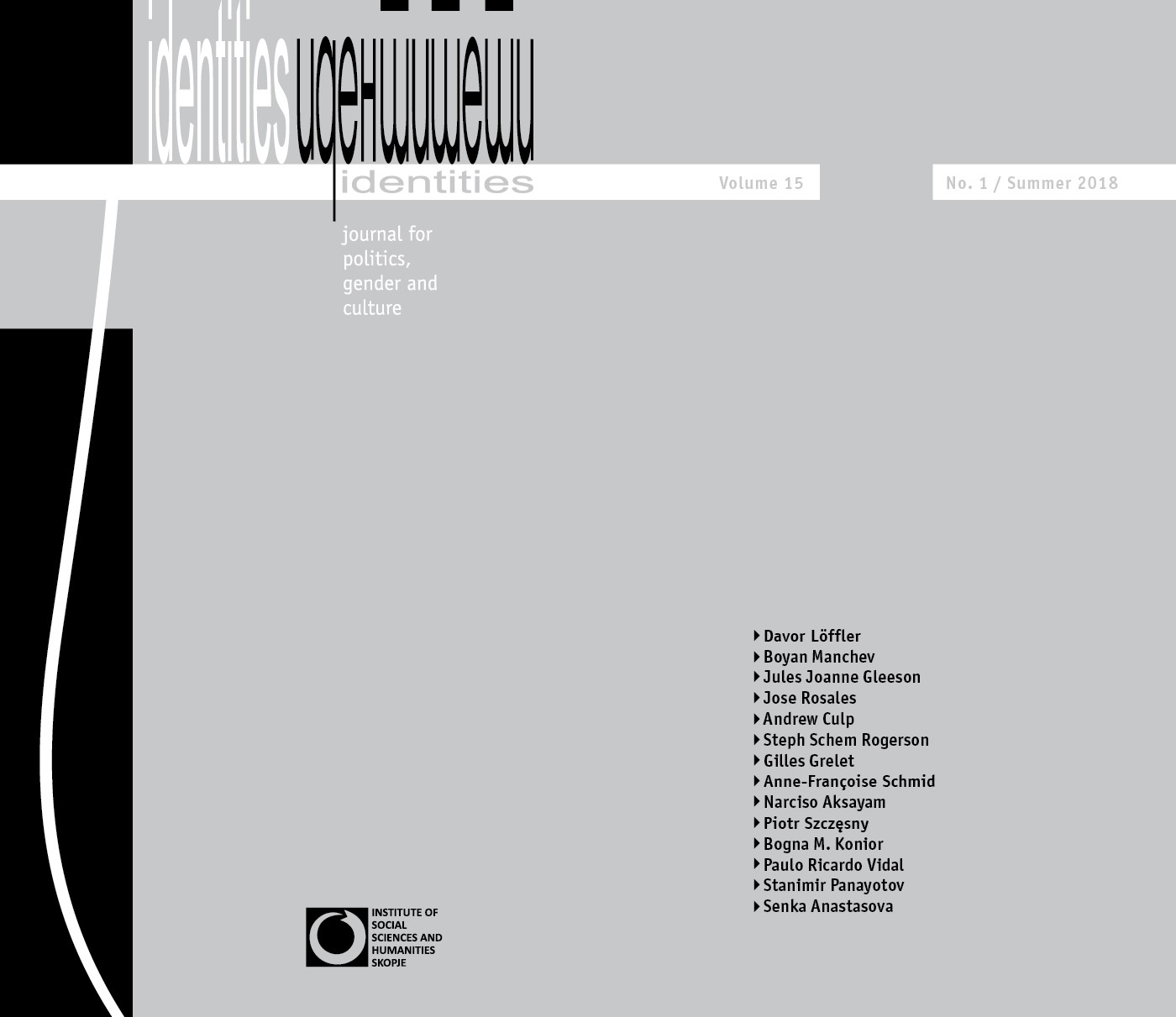 Publisher: Institute of Social Sciences and Humanities - Skopje
Authors: Davor Löffler, Boyan Manchev, Jules Joanne Gleeson, Jose Rosales, Andrew Culp, Steph Schem Rogerson, Gilles Grelet, Anne-Françoise Schmid, Narciso Aksayam, Piotr Szczęsny, Bogna M. Konior, Paulo Ricardo Vidal, Stanimir Panayotov, Senka Anastasova
Language(s): English, French, Spanish, Dutch, Portugese
Publication Date: 2018
Page Count: 214
Print Run: 500
Size: 240X207X30
CONTENTS
I. POLITICS
Davor Löffler: Distributing Potentiality. Post-capitalist Economies and the Generative Time Regime [EN]
Boyan Manchev: Clouds and Fronts. Onto-meteorology and Philosophical Fantastic [EN]
 II. GENDERS/SEXUALITIES
Jules Joanne Gleeson, Jose Rosales and Andrew Culp: Love, Sex, Communism: A Discussion [EN]
Steph Schem Rogerson: The Idiosyncratic Archive: Queerness, Duration and Photography [EN]
III. CULTURE/NON-PHILOSOPHY
Gilles Grelet: "Tract(atus) 23: La théorie est attente." Notice [FR] | "Tract(atus) 23: Theory Is Waiting." A Note [EN]
Gilles Grelet: Tract(atus) 23: La théorie est attente [FR] | Tract(atus) 23: Theory Is Waiting [EN] | Tract(atus) 23: La teoría es espera [ES] | Tract(atus) 23: Theorie is wachten [NL]
Anne-Françoise Schmid: L'histoire de l'ONPhI n'est pas seulement une question de perspectives [FR] | ONPhI's History Is Not a Matter of Perspectives [EN]
Narciso Aksayam: Giving an Identity: Coordinates of Invention. Heresy and Dissidence Among Non-Philosophers [EN]
IV. DOSSIER: PIOTR SZCZĘSNY (1968-2017)
Piotr Szczęsny: Leaflet of October 19, 2017 [EN]
Piotr Szczęsny: Letters to the Media of October 20, 2017 [EN]
Bogna M. Konior: Media Intellectualism or Lived Catastrophe? Mediating and Suspending the A/political Act [EN]
V. REVIEWS
Paulo Ricardo Vidal: Towards Katerina Kolozova, Toward a Radical Metaphysics of Socialism: Marx and Laruelle [EN] | Para Katerina Kolozova, Toward a Radical Metaphysics of Socialism: Marx and Laruelle [PT]
Stanimir Panayotov: Towards Katherine Behar (Ed.), Object-Oriented Feminism [EN]
Senka Anastasova: Towards Jamie McCallum (Dir.), The Real Work [EN]
Download the whole issue here.
View All Issues
Identities: Journal for Politics, Gender and Culture is an open-access, peer-reviewed international journal that seeks to serve as a platform for the theoretical production of Southeastern Europe and enable its visibility and an opening for international debate with authors from both the "intellectual centers" and the "intellectual margins" of the world. It is particularly interested in promoting theoretical investigations which see issues of politics, gender and culture as inextricably interrelated. It is open to all theoretical strands, to all schools and non-schools of thought without prioritizing any of the canonical Masters of philosophy. It does not seek doctrinal consistency, but it seeks consistency in rigor of investigation which can combine frameworks of interpretation derived from various and sometimes opposed schools of thought. Our passion is one for topics rather than philosophical masters.
Identities is published by the Institute of Social Sciences and Humanities - Skopje, Macedonia.